Why choose a double layer blanket?
Victorine Waro
At Plaids Cocooning, we have always been keen to offer you varied ranges of plaids, so that everyone can find the model of their dreams. Today, focus on our double-thickness throws, and the reasons why we advise you to opt for these models.
TWICE THE HEAT
A double-thickness blanket offers better thermal insulation, which means that the blanket retains more heat. This is especially useful during cold seasons or in areas where temperatures can be freezing.
You will be able to warm up more effectively with a double-layered blanket than with a single blanket.
Our cozy ones are therefore your best allies for long winter evenings: for example, opt for our two-tone chocolate cozy one.
SHOP OUR RECYCLED FLEECE PLAIDS
A MORE RESISTANT PLAID
As you know, at Plaids Cocooning, quality is our priority. And in order to offer you durable pieces that will accompany you for years, we rely on resistant materials. The double thickness is therefore a guarantee of quality and durability under all conditions.
Double-layered throw is less likely to tear or wear out quickly, meaning you'll be able to enjoy it for longer. It's a wise investment if you're looking for an accessory that will last over time.
SHOP OUR RECYCLED FLEECE PLAIDS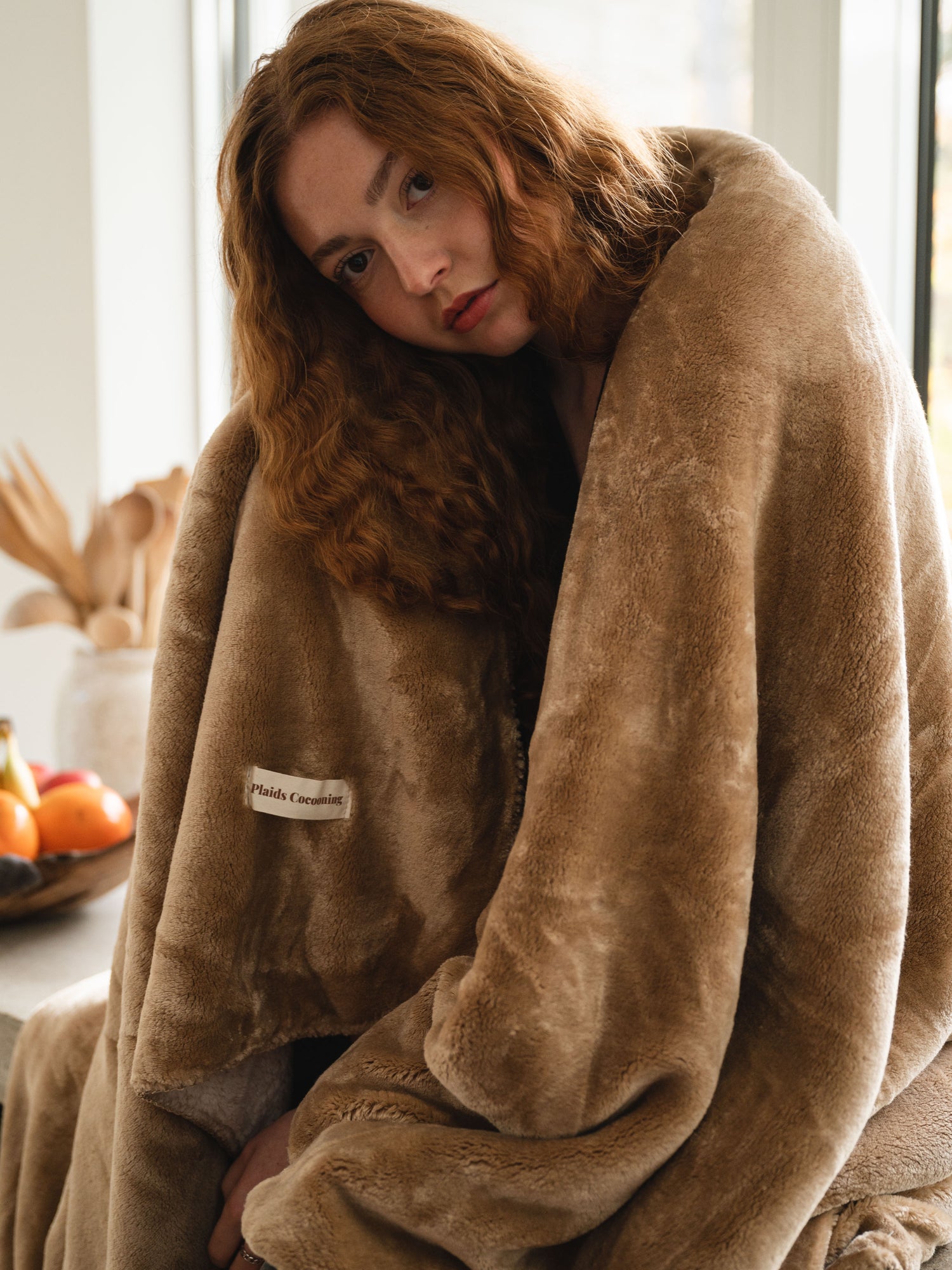 GUARANTEE OF AESTHETICS
Since your throw is a decorative element in its own right, you should not hesitate to highlight its aesthetic assets. And, in fact, double-layered throws often have a more luxurious and refined appearance due to their additional thickness. Larger and more textured, they quickly become the charming asset of your living room or bedroom.
It is with this in mind that we have developed our range of cozy throws. Colorful and crafted throws to match all your decorative styles, and whose colors evolve every year.
SHOP OUR RECYCLED FLEECE PLAIDS
A REAL PALETTE THAT WE LIKE TO RETHINK EVERY YEAR.
You will have understood, choosing a double thickness throw will offer you a combination of increased warmth, comfort, durability and aesthetics. Whether you're looking for a blanket for chilly evenings at home or a versatile accessory for outdoor outings, a double-layer throw can meet your needs while providing a feeling of luxury and comfort.