OUR VISION
Victorine Waro
If you are reading this article, it is undoubtedly because you like our products. And you probably have a lot of questions about our brand. Namely, what is our vision? Our manufacturing process? Why don't we have sales or Black Friday? Or, what are our commitments?
Today we present to you our vision and our objectives for the years to come.
A FAMILY STORY

For 10 years, Plaids Cocooning has been a story of family and heart. In our country, the love and work of textiles is passed down from generation to generation. It was first of all our grandmother, a seamstress by trade, who passed on to us this taste for beautiful fabrics. Then, it's from our father that we get this love for customer contact. And above all , we have panache in commercial matters .

THE PLAID, AS AN OBVIOUS

So, at Plaids Cocooning, we don't just sell throws. But we sell sweetness. And finding the perfect piece that will accompany you during your moments of relaxation is our vision.

Thus, Plaids Cocooning was born from many motivations. Everything that made the brand what it is today. Offer quality pieces, carefully designed. But also, to offer, beyond textiles, our vision of plaid. Indeed, we see it as a decorative element. An essential that will accompany you during your family moments.

WHEN EASTERN AND EUROPEAN KNOW-HOW COMBINED

Fabric has always been at the heart of desire. The first merchants were considered the guardians of the world's gold. And it was Asia which was the first to be the scene of this flourishing market. Moreover, China has long kept the secret of silk manufacturing to itself...

We are aware that a lot has changed since then. Of course, the economy is not what it used to be. So we grow with it.
A LONG-STANDING VISION
When Plaids Cocooning was born in 2013, our vision was clear. We wanted to offer products that were both gentle and accessible. And so that everyone can treat themselves to the cocooning blankets of their dreams. Softness is what motivated all our choices.
And when we started looking for our future supplier, we had to make choices. In France, and even in Europe, no supplier was able to satisfy both of our expectations. Offering softness at an affordable price.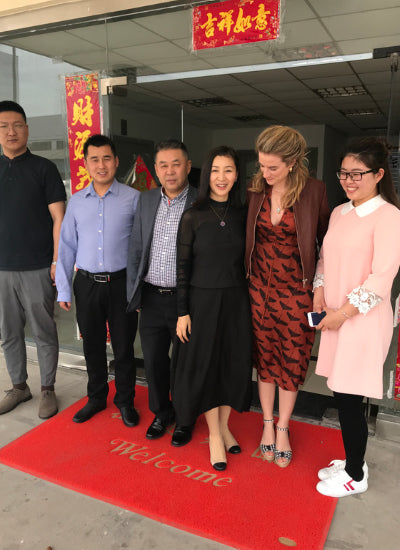 THE MAKING
Furthermore, our demands did not stop there. When choosing our suppliers, we did not only choose partners. But real allies, friends. Thus, the company with which we have been working for 10 years is an integral part of Plaids Cocooning. It is a true relationship of friendship that was created, and common values ​​that were born.
Also, this is why having production in China is not a taboo for us. The partners we work with meet all European standards and certificates (Oeko Tex, SMETA 4P, BSCI, etc.). Working conditions there are good. Employees are respected and work at their own pace. We can assure you of this because it is important to us to visit our suppliers once a year.
It's obvious, we would like, in the future, to repatriate our factories here, in France. To revive the local economy, save on transport costs...Or even in order to preserve French know-how. But it is a large-scale project. A project that requires time and money. So, to achieve this, we would need a Business Angel. This is a call we are making!
In the meantime, we have a great France collection in pure Pyrenees wool in terms of 100% French production introduction.
CLICK HERE
A DESIRE NOT TO PUSH TO OVER-CONSUMPTION
These questions come up often. Why don't you have sales? What about Black Friday? Where are the promo codes? So, it is high time for us to clarify this point.
We know that many brands have a different business plan than ours. They also offer exclusive offers, loyalty programs or private sales. However, we decided otherwise. Our throws are available all year round at the same price. A way for us not to encourage overconsumption. And not to disappoint those who missed a promotion!
Each year, our quantities are determined carefully. Indeed, our production depends on the sales volumes of previous years. Therefore, we prefer to bet on small quantities. This allows us to offer you products that will accompany you for years.
So, every winter, our stocks are sold out. And we can offer you new models. But also, new colors, and ever more textures. Fashion evolves, tastes and colors too.
No overconsumption - A collection every year - Fair prices
OUR PROJECTS FOR THE YEARS TO COME
TO START,

Obviously, we were already aware of the growing ecological issues. And this year again, they motivated our decisions. So, 2022 was a year of great challenges for us.

This year, we offered custom-made faux furs. And this, thanks to Edith, our seamstress, who works in our workshops in Leers. Likewise, we are still committed to reducing textile waste. In particular by promoting our recycled polyester collection. An infinitely recyclable material.

In addition, we worked in a cause that is close to our hearts. The association Investing in the environment 1% for the planet.

AFTERWARDS…

For this year 2023, we are going to offer you even more committed collections. Among our projects, a baby collection made in France. Or, a summer range of 100% European production.

To find out more, see our commitments.

AND AFTER ?

And why not push our commitments even further? For example, by offering to collect your old throws. And to recycle them to breathe new life into them. Moreover, this is already what our throw blankets will experience this year. With them, we will be able to offer you original articles.

Finally, we wanted to thank you. It is you who, through your ideas, your vision, push us to always go further. So, it's your turn, if you have any suggestions to make to us. Projects that you would like to carry out, do not hesitate to suggest them to us.

May this year be under the sign of gentleness, Victorine, co-founder